Wiltshire Online programme – Melksham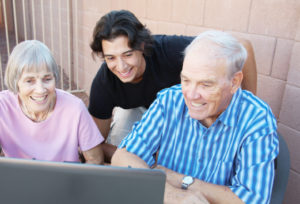 Jenny Wilcockson is the Digital Literacy Coordinator for Wiltshire Council, working on the Wiltshire Online programme.  It's Jenny's job to ensure that between now and 2015, adults across Wiltshire have the chance to learn the skills and access the technology they need to get online.  To do this, Jenny will shortly be recruiting a team of Digital Champion volunteers across Wiltshire, giving them the training, resources and support they need to go out into their local communities and help local people get online.
They estimate there are some 68,000 people in Wiltshire who've never been online.  The majority of these are older people, so they'll be targeting the older generation in their work.  However, they also want to make sure that people with disabilities, families on low income and carers are able to access this help.  This is where Jenny hopes you can work with them – Jenny would really appreciate it if we could signpost our clients to their service, to increase awareness and uptake of their offer of free computer support.
There are two different ways in which their digital champions will engage with their communities.  Some volunteers will work on a one-to-one basis with adult learners, either in the learner's own home, or in a community venue such as a library, wifi enabled café, pub or community hall.  Others will set up group sessions, again using local community venues.  The support offered by the digital champions will be tailored to suit the needs of the learner, e.g. help can be offered in any number of different areas, including computer basics, email, Google, Skype, Facebook, online shopping and more.  The best thing about it all is that the help will be offered completely free of charge.  Jenny very much hopes that the digital champion service will be accessible to everyone, regardless of experience or disability.
This programme of digital literacy has only been running since October, but they're now at a stage where they can start piloting the volunteer work.  They've decided to target the Melksham community area for this pilot and have just started to advertise for digital champion volunteers and local volunteer coordinators this week.  You can find more information about these roles and apply online through the volunteers pages on the Wiltshire Online website: www.wiltshireonline.org.  The pilot itself is due to start on 20th February and will initially run for 6 weeks.  This means it will end on 2nd April.  However, assuming the pilot is successful, the volunteering programme will continue and simply become 'business as usual' from then on.
Jenny was wondering whether any of our service users living in the Melksham area would like to participate in this pilot?  Perhaps they'd like to learn how to use a computer, or perhaps they'd like to be digital champions themselves and offer some peer to peer support?  Jenny is keen for this project to be as inclusive as possible, so the more people who come forwards, the better.
If you think it would be useful, Jenny would be more than happy to come along and talk to you in more detail about the Wiltshire Online programme.  Alternatively, if you have any questions or would just like some more information about their work, please get in touch with Jenny Wilcockson. Her details are as follows:
Wiltshire Online | Wiltshire Council | Professional Development Centre
3 Lancaster Park | Bowerhill | Melksham | SN12 6TT
01225 898464
07827 993733
jenny.wilcockson@wiltshire.gov.uk
Twitter: @jennywilcockson / @wiltshireonline
Page last updated: February 8th, 2012 at 3:52 am