Stonehenge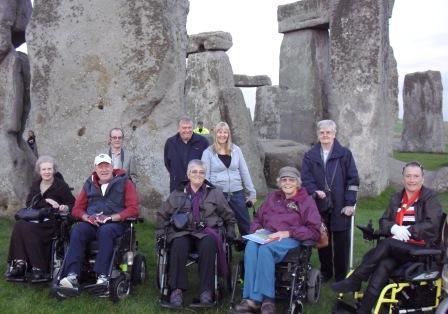 Our final visit to Stonehenge on the evening of August 31st was a fitting end to the year long project, members of WSUN have been involved with. That evening the group were given the opportunity to have access to the stones and watch as the sun set.
For the past year a small group of WSUN members had been commissioned by English Heritage to try and find out why Stonehenge has, compared to other top English Heritage sites, so few disabled visitors.
A first site visit by the group gave some answers to that question when they were able to point out to English Heritage personnel some of the more obvious difficulties disabled people would have to deal with, for example the steep ramps leading to the stones from the road underpass, the distance of the toilet facilities from the entrance, poor catering facilities and disabled parking.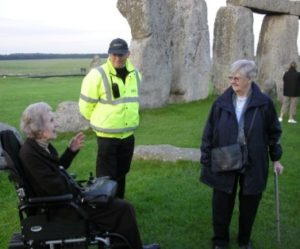 Subsequent meetings of the group looked at other things that might deter disabled people from visiting like for example the information given on the English heritage website.
To attempt to gain a better picture the group composed a questionnaire to be sent out to disabled peoples organisations across the region  seeking their views on visiting Stonehenge and what might be the barriers to making a visit. The group had a very good return on
the questionnaire with replies coming from organisations in Gloucestershire, Dorset, Somerset, Berkshire as well as Wiltshire. Kath Graham, the English Heritage project manager analysed the results of the questionnaire, a copy of which will shortly be available on this website.
This was the second piece of work undertaken by WSUN for English heritage on Stonehenge. Last year we were asked to set up a group to examine access and suitability of the proposed new visitor centre for Stonehenge. After meeting with the architects, looking at the plans and drawings of the new centre and handling some of the materials to be used in the centre, the group made a number of suggestions which were taken on board and led to significant changes in the design. A little later on English Heritage came back to the group to have a closer look at the interior layouts in the proposed shop and cafeteria at the new centre. Suggestions for changes to improve the access and experience for people with disabilities were made.
On the 17th December 2013, Louise Rendle, Nick Crane and Kath Brennan from WSUN attended the Official Opening of the new Visitor Centre at Stonehenge. Service users have been involved in consultations about the development of the site.
Page last updated: January 7th, 2014 at 9:06 am