NHS hospitals accused of 'hiding' food dissatisfaction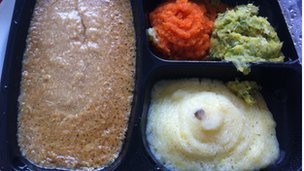 NHS hospitals accused of 'hiding' food dissatisfaction
NHS hospitals in England are hiding patient dissatisfaction with the food they serve, campaigners say.
The Campaign for Better Hospital Food said NHS Trusts routinely rated their own food highly.
But patient surveys showed nearly half of people were dissatisfied with what they were offered to eat.
The campaigners want mandatory standards introduced for hospital food, like those which already exist for prisons and schools.
Please click here to find out more. 
By Dominic HughesHealth correspondent, BBC News – 27 August 2013
Page last updated: August 27th, 2013 at 2:50 am