Shingles vaccine to be routine for people in their 70s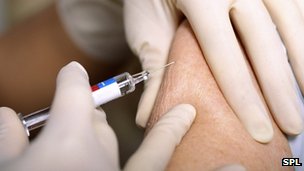 Shingles vaccine to be routine for people in their 70s
People in their 70s across the UK will be offered a vaccine against shingles from this September.
Experts have been recommending routine immunisation against the disease, which causes a painful rash, for some years.
The government-led programme will target 70, 78 and 79-year-olds in the first instance and should prevent tens of thousands of cases a year.
Elderly people are at greatest risk and vaccination should prevent nearly half of cases in the over-70s.
It is estimated that, in England alone, around 800,000 people will be eligible to receive it in the first year.
Page last updated: April 30th, 2013 at 2:40 am