Fears over health and loneliness of elderly this winter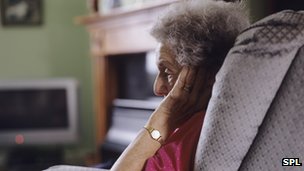 Fears over health and loneliness of elderly this winter
People are being asked to call in on their elderly neighbours this winter amid fears pensioners will suffer worse than ever.
Age UK estimates that as many as 25,000 older people could die needlessly because of the cold.
It says the drop in temperature could see an increase in health problems for older people and risk leaving them isolated in their own homes.
The charity surveyed more than 1,000 adults aged over 65 across the UK.
The responses suggest that 3.5 million people in this age group in the UK are not getting any help or support from their neighbours.
Some 7% of them do not know their neighbours at all, the survey found.
Age UK's research also found that 35% were concerned about keeping warm at home during the winter.
Health risks
The over-65s contacted were concerned about not getting out during the shorter days and worried about falling over on slippery pavements and injuring themselves.
Page last updated: November 19th, 2012 at 4:46 am