Vitamin B3 'helps kill superbugs'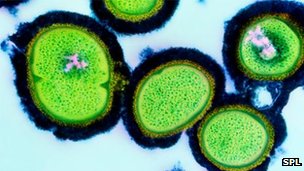 Vitamin B3 'helps kill superbugs'
Vitamin B3 could be the new weapon in the fight against superbugs such as MRSA, researchers have suggested.
US experts found B3, also known as nicotinamide, boosts the ability of immune cells to kill Staphylococcus bacteria.
B3 increases the numbers and efficacy of neutrophils, white blood cells that can kill and eat harmful bugs.
The study, in the Journal of Clinical Investigation, could lead to a "major change in treatment", a UK expert said.
B3 was tested on Staphylococcal infections, such as the potentially fatal MRSA (Methicillin-resistant Staphylococcus aureus).
Such infections are found in hospitals and nursing homes, but are also on the rise in prisons, the military and among athletes.
'Turn on'
The scientists used extremely high doses of B3 – far higher than that obtained from dietary sources – in their tests, carried out both on animals and on human blood.
Page last updated: August 28th, 2012 at 3:12 am