'Nano pit' technique to extend life of hip replacements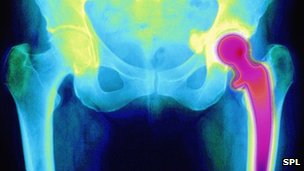 'Nano pit' technique to extend life of hip replacements
A Scottish team of biologists, nanoengineers and surgeons has come up with a new technique which could mean hip replacements that last a lifetime.
The researchers want to coat key surfaces with a "nanopattern" pitted plastic to encourage stem cells to form bone in contact with the new joint.
The system aims to combat problems with the body forming soft tissues around hip replacements.
Work is under way to develop prototype devices over the coming years.
It's the potential solution to a problem which faces everyone who gets a new hip – it won't stay new.
You'll be lucky to get 15 years out of it before your hip replacement needs replaced.
Consultant orthopaedic surgeon Dominic Meek, from Glasgow's Southern General Hospital, said the hip replacement procedure had become a victim of its own success.
What we've done is control the pattern that we have to tell the stem cells what tissue we want"Dr Matthew Dalby Cell biologist
"One of the problems is that it's been so successful that we've been putting them into a lot more, younger patients – and they're a lot more active," he said.
"So because of this they've been wearing out these hip joints."
Page last updated: August 31st, 2012 at 2:26 am