Social care plans 'simply paper over cracks'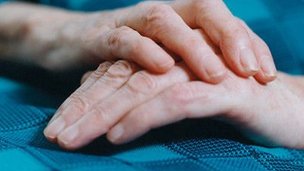 Social care plans 'simply paper over cracks'
The elderly and disabled face years of misery because the government has failed in its overhaul of social care, council leaders and campaigners say.
The Local Government Association accused ministers of "papering over the cracks" after they refused to commit to capping the lifetime costs people face.
Last year an official review recommended a limit of £35,000.
But the government said while a cap was the "right basis" for change, it needed more time to look for cheaper options.
The announcement on funding – unveiled alongside a white paper and draft bill which set out other changes to social care – has long been anticipated.
On taking power, the coalition had said it would look at funding amid concerns from councils and the elderly and disabled who rely on the services that the system was struggling to cope.
By Nick Triggle Health correspondent, BBC News
Page last updated: July 12th, 2012 at 1:59 am