Social care cap delayed as cheaper option sought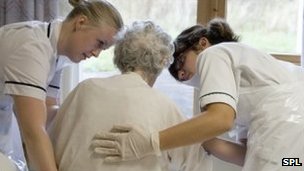 Social care cap delayed as cheaper option sought
Ministers have refused to fully commit to a cap on care costs for the elderly and disabled in England, saying they need to explore cheaper options first.
They unveiled funding ideas including a higher cap or asking people to pay a fee to opt-in to the system.
A review last year proposed capping the amount people pay at £35,000 – but ministers said the current climate meant it had to look at other options.
The move has disappointed those involved in the social care system.
The announcement on funding – unveiled alongside a white paper and draft bill which sets out other changes to social care – has long been anticipated.
On taking power, the coalition had said it would look at funding amid concerns from councils and the elderly and disabled who rely on the services that the system was struggling to cope.
It asked an economist, Andrew Dilnot, to come up with recommendations and he reported back last summer recommending the £35,000 cap.
By Nick Triggle Health correspondent, BBC News
Page last updated: July 11th, 2012 at 5:38 am