Social care cap plans 'need funding and timetable'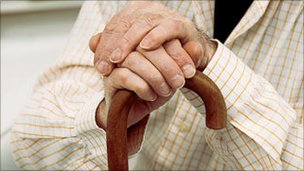 Social care cap plans 'need funding and timetable
Critics say the government needs to provide further details on how it will fund a cap on social care costs and when it will be introduced.
This week ministers are set to agree in principle a cap on what people in England pay towards their own care.
But Labour says the plans are "meaningless" without more details and a timetable.
And Michelle Martin, director general of Age UK said the government's plans were "not nearly enough".
"The government must set out the process by which it will make the all-important decisions about funding social care, including timescales and milestones," she said.
"That is the very least older people and their families will be looking for next week."
Acceptance of the recommendations would be "a step forward and welcome" she added.
Health Secretary Andrew Lansley has said that legislation to change the funding of social care for elderly and disabled people in England could be introduced during this Parliament.
Page last updated: July 9th, 2012 at 3:17 am