Councils putting stricter time limits on elderly care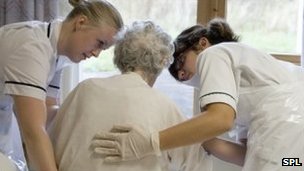 Councils putting stricter time limits on elderly care
Most councils are imposing unreasonably short time limits on care for the elderly at home, according to the UK Homecare Association.
In a survey, it found that an estimated 75% of councils expected carers to complete visits to elderly people in less than half an hour.
Ten per cent imposed time limits of 15 minutes.
The Association of Directors of Adult Social Services said it illustrated the financial pressures on the system.
Around 640,000 carers visit people in their homes across the UK on a daily basis, helping them with basic tasks like dressing, washing, and heating up meals.
But as budgets tighten, increasing numbers are being told to clockwatch; having time limits set on visits.
In its survey, the UK Homecare Association heard from 739 companies providing care at people's homes, representing 90% of all local authority areas.
By Jane Hughes Health correspondent, BBC News
Page last updated: July 6th, 2012 at 1:21 am