NHS care, including knee and hip operations, 'rationed'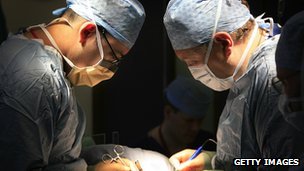 NHS care, including knee and hip operations, 'rationed'
Access to NHS care, including knee and hip operations, is being restricted, data from trusts in England suggests.
The evidence – gathered under the Freedom of Information Act by GP magazine – showed nine in 10 trusts were imposing restrictions.
The trend was blamed on cost-cutting by some, leaving the government to say there was no justification for it.
But managers defended the practice, saying there were instances when care had to be prioritised.
The magazine received responses from two-thirds of the 151 trusts about the procedures they considered to be non-urgent.
The most common restriction was on tonsillectomies with 89% of areas imposing restrictions.
This in itself is not that controversial as many argue the NHS is better to concentrate its resources in most cases on other, more serious conditions.
But the research also found evidence of rationing in other areas.
The reality is that this is simply a cost-saving exercise"
Dr Richard Vautrey British Medical Association
Limits on cataract surgery were in place in 66% of trusts, while over half of areas were rationing weight-loss surgery and hip and knee operations.
Another survey published by Labour found similar patterns, prompting criticism from patient groups.
By Nick Triggle Health correspondent, BBC News
Page last updated: June 19th, 2012 at 1:54 am