Elderly warned over pressure-selling by rogue firms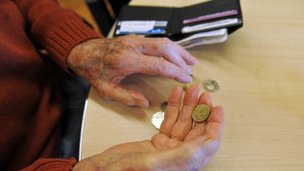 Elderly warned over pressure-selling by rogue firms
Older people and carers have been told to beware of scam retail or investment operations targeting the elderly.
The Insolvency Service said that in the three years to March it closed 78 rogue firms in England and Wales, which had scammed £28m from nearly 2,000 victims.
Firms had aggressively cold-called or door-stepped older people and then overcharged them or failed to deliver.
Scammers targeted "the most susceptible members of society", most of whom never made good their loss, a spokesman said.
"The worst aspect is the callousness with which the fraudsters go about their business; ignoring the obvious fact that that because of their age, most victims will never be able to make good their loss," head of investigation and enforcement Robert Burns said.
If you feel under pressure to commit, then just step away because any reputable company will allow you time to think an offer over"
Michelle Mitchell Age UK
"If you are cold-called, don't be afraid to say 'no thank you'. If in doubt, you should take time to research the company and get some independent advice."
Page last updated: June 15th, 2012 at 1:52 am