Be brave on NHS, politicians told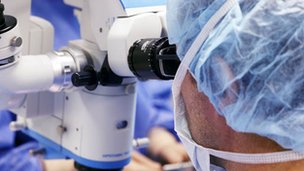 Be brave on NHS, politicians told
Politicians need to be braver when it comes to putting the case for change in the NHS, particularly over the closure of services, health leaders say.
Mike Farrar, of the NHS Confederation, which represents managers, said there had been a "chronic failure" so far.
He said politicians had been putting short-term electoral interests first.
And he warned if the issue was not addressed the health service could find itself in real financial difficulty and patients would suffer as a result.
Mr Farrar was speaking ahead of the confederation's three-day annual conference which starts later in Manchester.
The group also released details of evidence they had collected from more than 250 NHS trust chief executives and chairman.
It showed many believed the health service was facing a very serious financial situation with some describing it as they worst they had ever experienced.
'Danger'
Many also predicted it would get worse without radical change, such as hospital closures and mergers and greater integration with community services, which can keep costs down by helping patients manage their conditions.
By Nick Triggle Health correspondent, BBC News
Page last updated: June 21st, 2012 at 2:12 am