State-funded elderly care declining, Labour figures suggest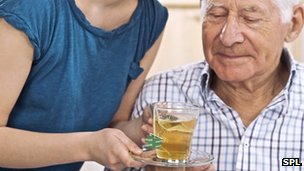 State-funded elderly care declining, Labour figures suggest
The number of elderly people in England getting council-funded care has fallen by 11% in the last two years, figures obtained by Labour suggest.
Freedom of Information responses from 121 councils showed they provided free care to 59,056 over 65s in 2011-12, down from 66,342 in 2009-10.
The drop comes despite the rise in over-65s due to the ageing population.
Campaigners said it proved the system needed urgent reform – something ministers say they are looking to do.
Labour asked all 153 councils that have responsibility for providing free care at home and in care homes a series of FOI questions.
Responses were received from around 80% (121) of local authorities.
Not all councils could provide data for the current 2012-13 year, but the figures from those that did suggested the rate of decrease was accelerating.
By Nick Triggle Health correspondent, BBC News
Page last updated: May 16th, 2012 at 5:54 am