New patients' ratings 'to improve NHS care'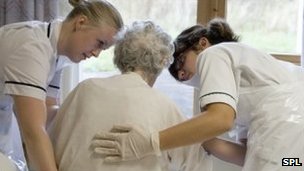 New patients' ratings 'to improve NHS care'
A new NHS patient rating system is to be introduced to help improve nursing care in England, the government says.
From April 2013 patients will be asked if they would recommend the hospital they were treated in to friends and family – with the results made public.
It is the first recommendation the government has accepted from its Nursing Quality Care Forum.
But there was no commitment on a host of other recommendations, including a call to review staffing levels.
Concerns have been raised about staffing levels in recent months after 2011 data showed the number of nurses employed by the NHS had fallen by 3,500 – 1% of the total – in a year.
The Royal College of Nursing has called for minimum staffing levels, saying care is being compromised because nurses are overstretched.
By Nick Triggle Health correspondent, BBC News
Page last updated: May 25th, 2012 at 4:06 am