Local care 'close to break point'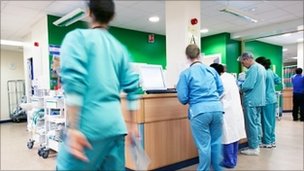 Local care 'close to break point'
Health services in the community are reaching breaking point in the UK, the Royal College of Nursing is claiming.
The union said evidence from its members showed cuts to councils and hospitals were over-burdening nurses in the community.
The research was released as nurses gather in Harrogate for their annual conference which will be addressed by the Health Secretary Andrew Lansley.
Ministers have said reforms to the NHS will improve services for patients.
RCN General Secretary Peter Carter said nurses were bound to "demonstrate their serious concerns" about the NHS in a Q&A session with Mr Lansley.
At last year's conference RCN members gave him a vote of no confidence.
The latest research was based on online feedback from nearly 2,700 nurses in the community including district nurses, those who work in GP practices and those who specialise in mental health.
Nine in 10 reported their caseloads had increased in the last year with some saying they were even having to fill in for council social care teams by making meals for patients and doing their shopping.
Ministers have talked about moving care away from hospitals and into the community so patients can get more appropriate services.
By Nick Triggle Health correspondent, BBC News, Harrogate
Page last updated: May 14th, 2012 at 2:25 am