Forget about 'social care pot of gold'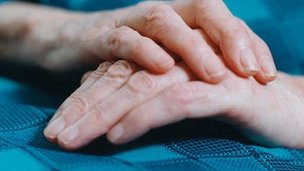 Forget about 'social care pot of gold'
There will be no "pot of gold" to answer the prayers of councils struggling to look after the elderly, according to social care chiefs.
Ministers have promised to reform the system amid signs local authorities are struggling to keep pace with demand.
But Sarah Pickup, the new president of the Association of Directors of Adult Social Services, said changes in England would still be years away.
Instead, she urged councils to look at new ways of providing services.
In an interview with the BBC, she said the key was to end the traditional assumption that long-term social care support was inevitable as people aged.
Mrs Pickup cited the success her council, Hertfordshire, had had in helping to avoid that spiral of decline by offering intensive, short-term support following problems such as broken hips and stroke.
The county has been running an enablement service for the past few years which offers the elderly six-week stints of rehabilitation.
The help provided by the team, which can provide access to everything from physiotherapy and telecare to befriending services, means half of its clients avoid the need for any long-term support.
She said there were plenty of other good examples across the country of similar schemes.
By Nick Triggle Health correspondent, BBC News
Page last updated: April 18th, 2012 at 1:12 am