NHS £20bn savings progress questioned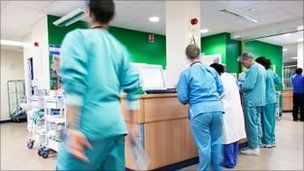 NHS £20bn savings progress questioned
Doubts are being raised over government claims the NHS in England is making good progress on its savings target.
The health service has been told to find £20bn in savings by 2015 – 4% to 5% of its budget a year.
But it has been told that this saving must not come from cuts, but instead be made through productivity savings.
Financial results released this week suggested £5.8bn would be saved this year, but experts have questioned the extent of the savings.
To find out more please click here.
By Nick Triggle Health correspondent, BBC News
29th March 2012
Page last updated: March 29th, 2012 at 2:11 am