Elderly 'suffer as social care spending cut'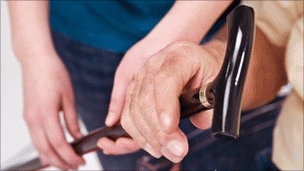 Elderly 'suffer as social care spending cut'
Spending on social care for the elderly in England is falling this year – despite the assurances of ministers, an analysis by campaigners suggests.
The Age UK report said £7.3bn was being budgeted this year – the same as in 2011 – but it represented a drop of 4.5% once inflation was taken into account.
The charity said the squeeze meant thousands were missing out on care.
But ministers said there should be enough money available to avoid cuts.
To find out more please click here.
By Nick Triggle Health correspondent, BBC News
30th January 2012
Page last updated: January 30th, 2012 at 3:11 am