Ensure your Christmas candles burn safely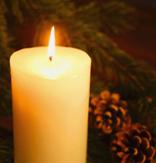 Ensure your Christmas candles burn safely
WILTSHIRE Fire and Rescue Service has issued a stark warning over candle safety in the run-up to Christmas.
A spokesman for the service said people should take heed of the warning and take simple steps to make sure they are safe.
He said to put your candles on a heat-resistant surface, and be especially careful with night lights and tea lights, which get hot enough to melt plastic – TVs are not fire-resistant objects and tea lights can burn right though the plastic.
Please click here to read more.
12:57pm Tuesday 20th December 2011 in Local
Page last updated: December 20th, 2011 at 9:03 am