WSUN 20th Anniversary Celebration Forums
This November, the Network is celebrating 20 years by holding a series of events looking at issues that affect people around Wiltshire and Swindon.
The first two events were held this week in Salisbury and Melksham where people enjoyed hearing from key speakers and feeding their views on issues:
Salisbury:  Rachel Goff – Campus and Operational Delivery Models Team, Wiltshire Council – who outlined Wiltshire Council's proposals for Campuses in a number of Wiltshire towns where most of the public services would come together on one site.
Detective Sergeant Chris Feerick – Wiltshire Police – who leads on Hate Crime explained what this means and how Hate Crime can be identified and reported. She also explained how Wiltshire Police will respond to Hate Crime reportings in the future.
Inspector Andy Noble – Wiltshire Police – spoke about the new Police Hubs where emergency operational staff would be based in four towns in Wiltshire with each Hub being responsible for an area of the county. He also assured people that the Neighbourhood Police Teams would remain unchanged.
Melksham: James Cawley – Service Directory, Strategy & Commissioning – Wiltshire Council – gave a presentation on Wiltshire Council's Help to Live at Home Project wherein Wiltshire Council has awarded four contracts to care providers so that care provision becomes person centered with the emphasis on the customer saying what they want from their care package.
Detective Sergeant Chris Feerick – Wiltshire Police – spoke about Hate Crime as she did in Salisbury.
At both Melksham and Salisbury members were invited to join in chair-based exercises and were included in a free raffle and a 20th WSUN birthday cake was cut and served.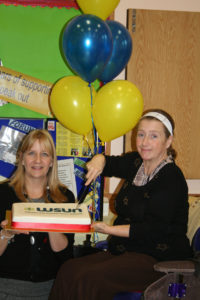 Future events will be held on:
29th November, Calne Town Hall
1st December, Pilgrim Centre, Swindon
(If you would like to attend either of these please contact us to find out times and information).
Page last updated: November 28th, 2011 at 5:58 am