WSUN Activities
Memory Clubs
Mental Health
Autism Forum
WSUN now supports the Wiltshire Autism Forum.
At the forum, we listen to your views, everyone will have the opportunity to say anything they want to about their experiences of living with autism in Wiltshire and these views are then passed on directly to Wiltshire Council and the NHS. This helps shape the support and services available to people on the autistic spectrum.
We meet on a regular basis, approximately every quarter. If you would like to attend, please email me on: louiserendle.wsun@btconnect.com or give us a ring on 01380 871800.
---
Meeting Dates:
24th January, 2018. Venue: Southgate House,  Pans Lane, Devizes, SN10 5EQ
The forum is due to start at 11.30am with coffee/tea and introductions. We will then listen to your views. Everyone will have the opportunity to say anything they want to about their experiences of living with autism in Wiltshire. (This information will be fed into the meeting with other organisations after lunch).
12.30 – Buffet lunch. You can stay for this or you can go home. Lunch and is free.
1.15pm – Members of the Strategy Board arrive for coffee.
1.30pm – We give our views directly to the Autism Board. If you wish to stay and give your views, you are very welcome. If not, I can give your views instead.
2pm – Finish
Please can you let us know if you would like to attend the Forum so we can make sure we have enough food for lunch, by phoning the office on 01380 871800
---
2017_10_04-WAP_Notes__Actions_from_Discussions
Wiltshire Autism Forum October 2017 notes
---
---
Memory Clubs
Calne Memory Club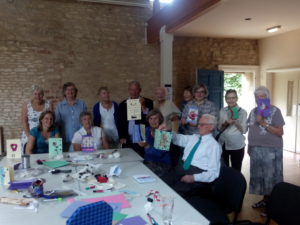 The Calne Memory Group held its first meeting on 13th February 2014 at Marden House. The first meeting got off to a great start with five people who either have a memory loss or care for someone with memory loss turning up to find out what the club was all about. Group organisers, Jan Bird, Gill Kosmyryk and Olga Tuffery were well prepared with archive material from Calne Heritage Centre, tea coffee and cakes and a selection of raffle prizes. WSUN staff attended the meeting to support the group. Calne Memory Group will meet fortnightly at Marden House on a Thursday from 10.00 – 12.00. If you live in Calne or the surrounding area, have a memory loss or care for someone with memory loss then you would be more than welcome to come along to a session, enjoy conversation and become involved in the events that will take place.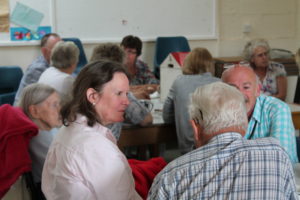 For more information: www.calnememoryclub.org Freda 01249 822132   or David 01249 815170
Tisbury Memory Club
Tisbury Memory Club has been running successfully since May 2014. All are welcome at the meetings which are held at Hinton Hall in Tisbury on Wednesday's. To find out more please contact Anne-Marie on 07557 922023.
3M's Memory Club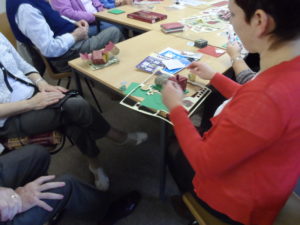 Do you live with memory loss or do you know or
care for someone with memory loss. Join in to socialise,
share experiences and meet new friends. Meetings are held at: Lyneham Village Hall, The Green, Lyneham, SN15 4PE.
10.00am – 12.00pm
---
Mental Health
Our Time To Talk (OTTT) is a friendly and welcoming group for people who use mental health services in Wiltshire.
If you would like to come along to an OTTT or find out more information please call WSUN on 01380 871800.
Our Time To Talk is open to anyone who uses or has used mental health services.  It is welcoming, non-judgmental, and free to attend.
Our aim is to inform and empower service users.  Issues experienced by service users can be raised with the appropriate service for a response.
Refreshments provided.  Guest speakers welcome
Please contact Zoë on 01380 871800 or email:  assistant.wsun@btconnect.com
2018 Meeting dates:
Fridays 26th January, 23rd March, 25th May, 20th July,  21st September & 23rd November.  All meetings run from 11.00am to 1.00pm at Corsham Fire Station, Beechfield Road.
World Mental Health Day – 2015
We marked the day with an open invitation for all to take part. We enjoyed listening to speakers, browsing the marketplace stands, our fantastic art table where beautiful bunting was created.
Here are some of quotes we received on the day and photos taken:
"Fun, interesting, informative, empowering"
"Music was wonderful to take part in"
"brilliantly organised – thank you"
"How nice to see so many people here to talk about this issue which affects us all"
"very useful information from organisations I was not aware of"
"All good stuff!  Picked up connections, tips and advice"
"A bright day despite the grey weather – it had a bit of a party atmosphere here…"
"very useful and helps to highlight ways for collaborating working with other organisations"
"people on stands very enthusiastic and well informed – many smiles too!"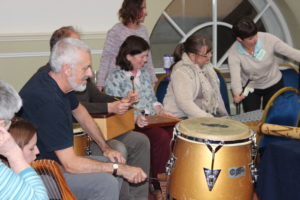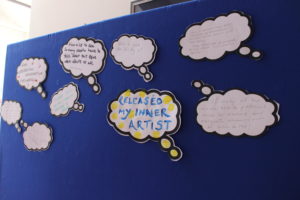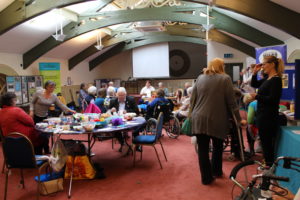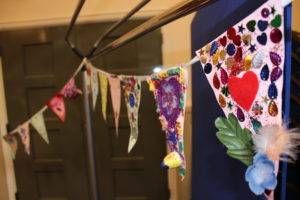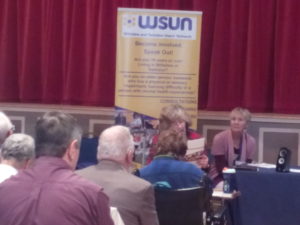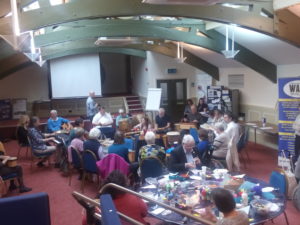 ---
Vision Ahead
Report to follow.
Page last updated: January 19th, 2018 at 3:35 pm