Help to Live at Home (H2LAH)
Help to Live at Home
Do you or someone you know need some extra help?
Are you finding it more difficult to manage at home?
Are you concerned that you might be less independent?

 .
Help to ensure you can stay safely at home
The Help to Live at Home Service has been created by Wiltshire Council with and for older people and others who require support, including families or carers.
These services all aim to ensure that people receive the help they need, when they need it, but they are encouraged to be as independent as possible.
From talking to many people, the council knows you want support that will ensure you are safe and secure in your own home, while helping you to live an interesting, stimulating and fulfilling life. Help to Live at Home has been designed with this in mind.
Practical help with managing your home and your personal care
Four care companies have been chosen by the council and the NHS to provide care and support to older people and others who need some extra assistance to ensure they can continue to live the lives they want as independently as possible. Each care company works in a different part of the county, as the map below shows.
The four companies have been selected becuase they provide excellent care and employ well trained, professional and caring staff. These companies are regularly inspected both by the council and the Care Quality Commission (CQC),  and have been found to provide high standards of care consistently.
Contact details for these organisations are:
Leonard Cheshire Disability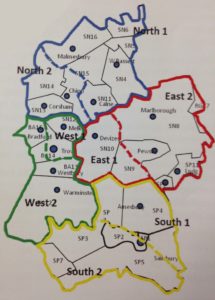 North and east wiltshire
Tel: 01225 781129
Mears Care Ltd
East and south Wiltshire
Tel: 0845 266 8944
Somerset Care at Home
West and noth Wiltshire
Tel: 01225 702141
Mihomecare
West Wiltshire
Tel: 01225 791015
Help 24 hours a day
Are you worried about:
Falling?
Remembering to take your medication?
Knowing who to contract in an emergency?
Equipment such as lifelines, pendant alarms, smoke detectors, carbon monoxide detectors and many others can help you to remain safe at home, 24 hours a day. This sort of equipment is called telecare or assistive technology.
The council and NHS Wiltshire have one company to provide this equipment across the county. This company is Medequip-UK.
Linked to this equipment service is a call centre, provided by Wiltshire Medical Services which also provides the out-of-hours GP service across the county.
If a telecare alarm is triggered, a member of staff from Wiltshire Medical Services will respond, firstly by speaking to you and then either by contacting a local family member or friend, or sending out a member of their staff, or possibly an ambulance if one is required.
Wiltshire Medical Services
03000 111 247
Medequip-UK
01249 815052
Life is for living handbook
The 'Life is for Living' handbook has been produced to provide useful facts and guidance to help older people continue to live independently and to make it easier for them to find help if they do need it. The booklet covers everything from buying goods online, staying safe in your home, how to avoid falling victim to distraction burglaries, what to do if you have noisy neighbours, to bereavement, eating healthily and understanding your medical prescriptions.
The handbook is free and is being distributed to people aged over 70 in Wiltshire. It is also available at libraries, leisure centres and at the council's offices at County Hall, Trowbridge, Bourne Hill in Salisbury and Monkton Park in Chippenham. It is also being handed out by the partner organisations involved in the Help to Live at Home programme.
Practical equipment to help you remain independent
There is a variety of simple items available that will help you do what you want at home safely; a grab rail by your stairs, a walking aid, a ramp and many others. Where required, there is also a range of more complex equipment such as hoists or specialist beds and mattresses. Medequip-UK now provides all of this equipment on behalf of the council.
For some of this equipment it is best to have an assessment by a qualified Occupational Therapist, or OT; this can be provided by Wiltshire Council. Other equipment can be provided following a meeting with an assessor, such as those employed by Medequip-UK.
For further information on practical equipment please contact:
Wiltshire Council
0300 456 0111
Medequip-UK
01249 815052
Help and support with planning your care
The council can offer you help and support if you need care and can be contacted on 0300 456 0111 to arrange an assessment. Other services supported by the council are available for those who wish to make their own decisions on how they receive their care, by means of a direct payment from Wiltshire Council.
A direct payment is money paid directly to a customer by Wiltshire Council to help them to retain their independence and wellbeing. The Wiltshire Centre for Independent Living (WCIL) is able to help and support you with managing this direct payment. As a registered Wiltshire charity, Wiltshire CIL is a user led group, established in April 2005 by a voluntary group of people committed to ensuring that all people live independently as full citizens with choice, equal rights and equal opportunities.
Wiltshire CIL offers a range of support from extensive guidance online (www.wiltshirecil.org.uk), email correspondence, workshops to hear from experienced customers, mentoring where someone can support a new customer, joining a local support group or a visit from a Wilts CIL advisor.
If you are interested in the Wiltshire CIL Support Service please contact
Wiltshire CIL on 01380 725400 or www.wiltshirecil.org.uk.
Money – paying for care
A small number of people are eligible for financial support from the Council. However, for most people in Wiltshire, it will be important to ensure you get the right financial advice if you are thinking of purchasing care.
There are some specialist organisations that are accredited by the Society of Later Life Advisors (SOLLA) to provide this advice.
Two such companies working in Wiltshire are:
Ashcourt Rowan
Tel: 01225 469424
Fax: 01225 444129
wilts@ashcourtrowan.co.uk
Eldercare Solutions
Tel: 0800 0821155
advice@eldercaregroup.co.uk
Success measures
As well as the Council monitoring these organisations, there is an independent Customer Reference Group organised by Wiltshire & Swindon Users' Network (WSUN). This is a group of people, a number of whom currently use these services, who are interested in ensuring that the care and support being provided by these companies is the best it can be.
Members of the Customer Reference Group have received training and are being supported to find out what people using these services really think about them. If you are interested in joining the Customer Reference Group please contact:
Wiltshire & Swindon Users' Network (WSUN)
01380 871800
careathome.wsun@btconnect.com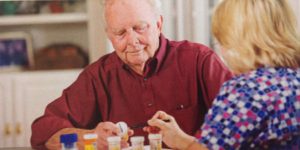 If you are caring for someone
There are a number of things you can do to ensure that you get the support you need to help you in your caring role:
Obtain a copy of the 'Carers Handbook' which should be available from all acute hospitals, GP surgeries and libraries, as well as from Carer Support Wiltshire direct.
Contact Carer Support Wiltshire on 0800 181 41180 and register with their service. They will be able to advise you on what additional support is available to you as an unpaid carer.
Tell your GP that you are an unpaid carer.
Make sure you register onto the Carers Emergency Card scheme. Forms are available from Carer Support Wiltshire. The scheme puts emergency provision in place should you be unable to continue caring for any reason.
How the council can help you
We carry out an assessment so that we can decide how best to help you; what your needs are and how quickly we should attend to them. During the assessment we will talk to you about your needs, anything you are struggling with and what changes you would like to make to your life to live as independently as possible.
We can also tell you if you are eligible for council funded services and if your needs can be met by exiting services in your community and/or by a package of social or health care.
How can I find out more about Help to Live at Home?
If you would like any further information on the Help to Live at Home service please contact:
0300 456 0111
You can contact Wiltshire Council in the following ways:
Telephone: 0300 456 0111
Web: www.wiltshire.gov.uk
Email: customerservices@wiltshire.gov.uk
Information about Wiltshire Council services can be made available on request in other languages and formats such as large print and audio. Please contact the council by telephone on 0300 456 0100, or email customerservices@wiltshire.gov.uk
Page last updated: January 7th, 2015 at 3:21 pm