Elderly denied NHS care 'can sue'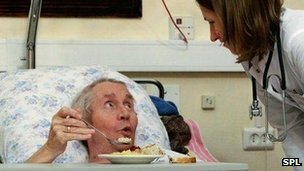 Elderly denied NHS care 'can sue'
Age discrimination by NHS hospitals is to be outlawed, ministers have announced.
From October, elderly patients will have the right to sue if they have been denied care based on age alone, says Care Minister Paul Burstow.
This will not mean patients can demand any treatment they want. Care decisions will still be judged according to clinical need by doctors.
But NHS staff will have a legal duty to consider wellbeing and dignity.
It sends a clear message to service providers that discrimination law will in future also protect older people"
Michelle Mitchell Age UK
The decision, which applies to hospitals in England, Wales and Scotland, follows a consultation exercise on the issue by the Home Office.
The charity Age UK said it was long overdue but good news.
By Michelle Roberts Health editor, BBC News online
Page last updated: June 12th, 2012 at 5:28 am